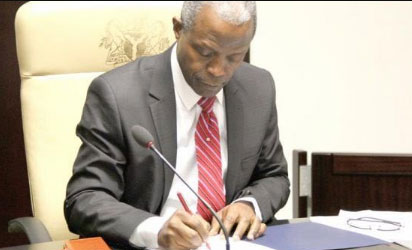 This is contained in a statement by the Director of Communications in the Office of the Head of the Civil Service of the Federation (OHoCSF), Haruna Imrana.
He said a letter conveying the appointment signed by the HoCSF, Winifred Oyo-Ita, said the appointment was a testimony of the confidence and trust reposed in Obatoyinbo by the Acting President
Meanwhile, Oyo-Ita has said that training of Federal public servants will no longer be a welfare package used to douse labour tensions.
She spoke on Friday in Abuja while inaugurating the Departmental Training Officers (DTOs) of Ministries, Departments, and Agencies (MDAs) of the Federal Government.
The Assistant Director of Media, Mohammed Manga, in a statement, quoted Oyo-Ita as saying that training and retraining of federal workers are essential to the development of the nation.
She said the inauguration was part of efforts to achieve the recently signed Executive Orders by Acting President Yemi Osinbajo aimed at easin