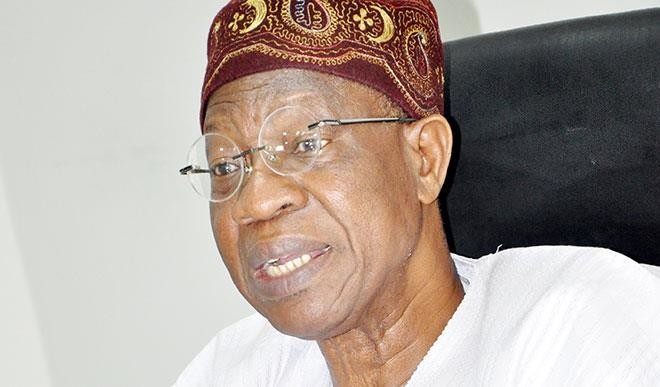 Alhaji Lai Mohammed
---
The Minister of Information and

Culture, Alhaji Lai Mohammed looks

to have lost his edge against a

worthy opponent after he

appeared on the latest episode of

the Osasu Show where he

assessed the President

Muhammadu Buhari ' s

Administration at Two .
The Minister who seemed unprepared for the heavy lifting which came at him during the interview had earlier been questioned on his take regarding Nigerians who have accused him of telling ' little white lies ' to which he replied that this was mainly because he was the face of the opposition party for nearly a decade .
He added that the second reason why Nigerians have accused him of telling lies to favour the Muhammadu Buhari -led administration is becasue quite a big section of the internet is yet to forgive him for the role he played in ousting PDP from office.
He said : " I think quite a big section of the internet is yet to forgive me for the role I played in the coming of this government. Many of them hold me personally responsible for the defeat of the PDP ."
Lai Mohammed added that " It was Nigerians who wanted a new government ," and he helped .
The Information Minister further dared anyone to come out with facts proving he had indeed lied to Nigerians at any point to favour the Buhari -led administration .
Lai Mohammed in reply noted that there is very little in governance when the economy, corruption , infrastructure and security have been covered. He added that Nigerians need to understand the focus of the Buhari- led administration to understand how much the Buhari- led administration had achieved .
He further noted while speaking on the impact of corruption that about N 700 billion was appropriated in the Ministry of Niger Delta between 2990 and 2015 according to a memorandum by the Honorable Minister of the Niger Delta.
Responding to a question on the redundancy of the power sector and the failure of the Minister of Works , Power and Housing , Babatunde Raji Fashola in delivering the promised 10,000 MW of electricity , Lai Mohammed noted that he does not agree with the verdict of Nigerians about the power industry adding that the Buhari- led administration entered power when Nigerians enjoyed only 2690MW adding that Buhari brought it to 5014MW which was affected by the medestruction of pipelines in the Niger Delta region adding that Nigerians enjoy almost 4, 000 MW now.
The Minister of Information further failed to defend the N 10billion which was allocated to IDPs adding that it is the most transparent administration Nigeria has had .