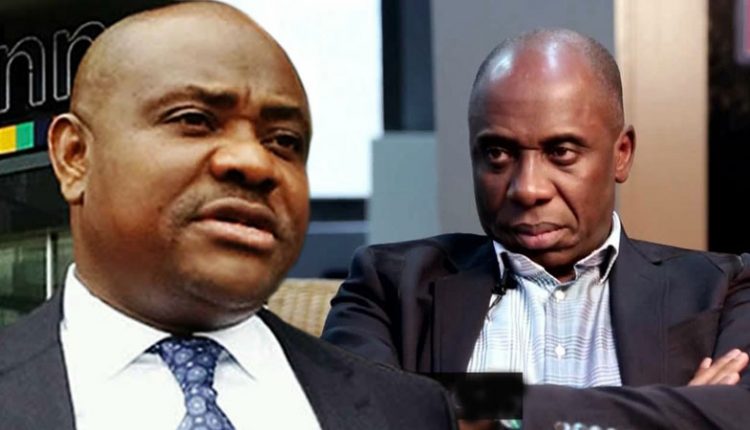 Rivers State Governor, Nyesom

Ezenwo Wike, has declared that

the Federal Government is

shielding Chibuike Rotimi Amaechi

from prosecution on alleged

corruption as a result of his

financial commitment during the

2015 General Elections for the APC.
This is as Gov Wike berated former Gov Amaechi for allegedly superintending over a vicious inse­cure system that led to the alleged assassination of prominent Rivers indigenes.
The governor also stated that the failure of the former governor to fund the operation of security agencies for over six months during his second term contributed to the degeneration of security in the state.
Speaking on Tuesday during a special appearance on a private rel­evision, Gov Wike pointed out that Amaechi's closure of courts for two years negatively affected security in the state as security agencies were overwhelmed by the challenges of managing suspects, while Rivers people were denied avenues to ven­tilate their grievances.
He said: "It was under Amaechi that I was almost assassinated when I was his Chief of Staff. Under him, Ignatius Ajuru was assassinated, Charles Nsiegbe was assassinated. Yet, he says the state is not as secured as it was during his term. The courts were shut down for two years. No despotic leader in the world had ever shut down courts. Amaechi entered the Guinness book of records for this notorious act of denying people access to justice.
The governor stated that: "Justices came to say that Amaechi came to procure judgment. If it is a Federal Government that is sincere, they will not want to do anything with Amaechi.
"In APC, once they lose a case, they berate the judiciary. It is only when they win that they praise the judiciary."
The governor added: "Amaechi used part of the $309m proceeds of the Rivers State Gas Turbine sale to fund the APC which is why the party rallies around him to shield him from prosecution in spite of his several indictments.