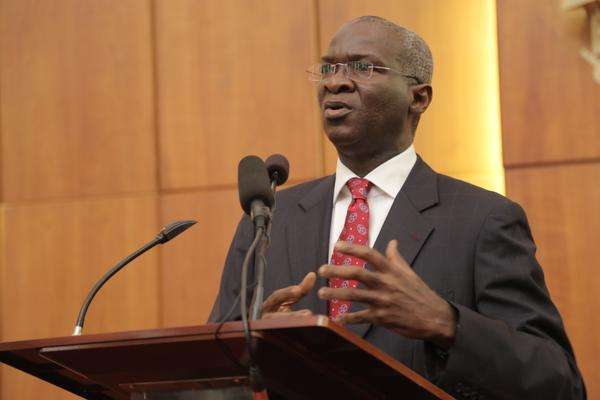 The Minister of Power, Works and Housing, Babatunde Fashola on Wednesday said generating 10,000 megawatts of power is achievable despite the challenges being faced by the sector.
Fashola stated this when he featured on Channel TV's Sunrise Daily monitored by Concise News in Lagos.
The minister of power said, "I think 10,000 megawatts is realisable. I think it is stretched without a doubt, but it's possible. I don't think that the public is concerned about how many megawatts you have, it's about how much access they get to energy," he stated.
According to him, sometimes when power is sustained about over 4000 megawatts, the feedback he gets suggest that the ministry is getting closer.
He, however, admitted that more must be done,
Speaking on the present state of power in the country under his supervision, Fashola said the ministry has increased power generation from 2690MW to over 4000MW.
He revealed that attacks on the gas pipeline have hindered power generation from going over 5000MW
"On May 29 this year, it was 4014megawats. So that's the context. We grew to 5074 in February 2016 and from then on we had 16 consecutive attacks on the gas pipelines.
"As I speak to you, the Escavos Lagos pipeline is out. That means that most of the power asset on the western flank of the Niger Delta do not have enough gas to fire them," he explained
He also listed Geregu 1 and 2, Olorunsogo, Omotosho 1 and 2, Egbin, AAS power batch not having enough gas to feed them in order to generate more power.
The minister who blamed gas pipeline attacks for inadequate power generation also disclosed that a 24-inch pipe was again blown up on the 20th of May, 2017.
"So repair work has started again. But inspite of this, we still have 4014 megawatts on the grid as at 29th of May, 2017," he added.
The minister, who revealed that the capacity of Nigeria to generate power is little over 12,000MW, explained that the reason for non-delivery of this capacity are uncompleted transmission projects that would evacuate some of them because contractors were owed by the former administration.
"920 containers were trapped at Nigeria's port, not an alien port. That's what we met. 920 containers containing transformers, switches gears etc.
"The simple reason is that nobody budgeted to pay for it. So, we started paying under President Buhari's first full budget.
"We retrieved 352 containers and they are being distributed to various sites," the minister stated.
Speaking on the oversight visit of the House Committee on Power, Fashola said that he met no one at the project site during his first visit.
"When I first visited that site, there was nobody there, because there was no budget. At least, the feature now showed that people were welding the stilt tank. That's because they've been paid. They had not been paid for 3-4 years before Buhari came," he stated.