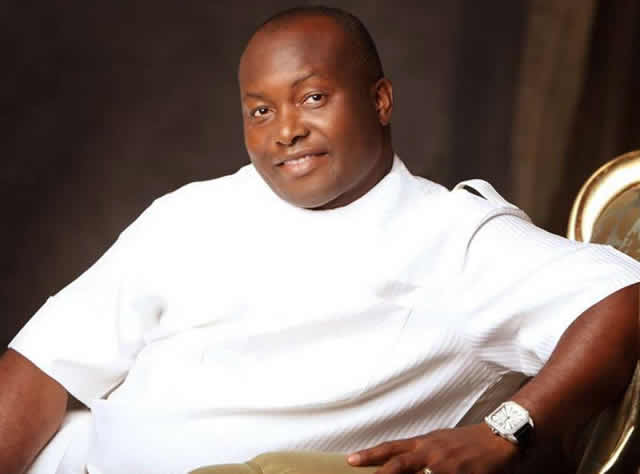 The Indigenous People of Biafra, IPOB, has condemned the continued detention of the Chairman of Capital Oil and Gas, Ifeanyi Uba, saying those keeping him in prison should be prepared to face its wrath should anything happen to businessman.
IPOB, in a statement issued on Friday by its media and publicity secretary, Emma Powerful, claimed that its intelligence unit has uncovered a grand plot to cripple businesses in Igboland, adding that such actions show that Ndigbo were no longer needed in Nigeria.
This was as the Ohaneze Ndigbo Youth Wing called on the federal governnent to release the Capital Oil and Gas chief executive officer within 48 hours, threatening that its members would embark on massive protests at the end of the ultimatum.
Speaking at an event organised by Authority Newspapers to appreciate the pet projects of the wives of five South-East governors in Enugu, Isiguzoro said, "We are giving the DSS 48 hour to release Ifeanyi Uba from detention and if they failed to do so, we will embark on massive protest in Abuja and other states".
IPOB continued, "We want the DSS to know that an attack on Ifeanyi Uba is an attack on Biafra; the DSS should know that we are watching on this matter and must continue following it until it gets to its logical conclusion".
It wondered why a court of competent jurisdiction would order the release of Ubah yet the Department of State Services would continue to hold him.
"We have been informed by IPOB intelligence unit that this Ifeanyi Uba arrest by the DSS was the perfection of hard economic policies against our people and strangulation of Igbo businessmen in Nigeria.
"The ground plan to stop every business controlling by our people in Nigeria is eating deep in Nigeria economy because our people are the major businessmen in Nigeria today.
"Arresting Dr. Ifeanyi Uba because of his legitimate business proves to all and sundry that we are no more needed in the contraption called Nigeria," IPOB said.
It vowed to resist such policies against the people of the area, adding that "It is pathetic that well meaning Nigerians are keeping quiet over the continued damage the DSS is causing Nigeria".
"We want to state it categorically clear to all the Northern dominated DSS and other politicians that nothing should happen to our brother, Dr. Ifeanyi Uba because he committed no crime against anybody or Nigeria state.
"In line with this, we warn that Ifeanyi Uba should be released before it is too late or they will see the power of IPOB under Nnamdi Kanu all over the world; we cannot afford to watch them continue to humiliate and intimate him for no just cause."