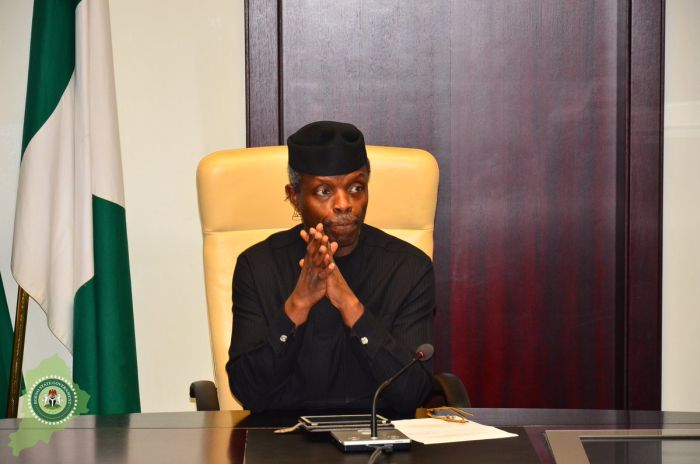 Acting President Yemi Osinbajo on Sunday called on all Nigerians to be ready to make the sacrifice to make the country great.
The acting president made the call spoke during the 2017 Democracy Day Interdenominational church service held at the National Christian Centre.
He prayed for President Muhammadu Buhari's quick recovery and safe return from London where he is currently undergoing a medical treatment.
"When we look on our country is not the state it fell that is the story but the story is how the people react when you see the nation that needs to be helped.
"While the politician and cleric look the other way when the saw the man that was half dead, the Good Samaritan had compassion on him, bandage him and took him to the hospital.
"Who truly loves the nation, is it the priest that said a prayer walked past, or the politician that looked and walked past or the Samaritan that took the wounded to the hospital, paid some money and said treat him, on my return I will upset the bill.
"The nation requires those that can make the sacrifices to make it great, they are those whom Jesus spoke about, people that may not be of note but prepared to make the nation great again. Some are doctors, teachers, young graduates.
"There is sacrifice of integrity against corruption, when you speak against corruption it fights back so you must be ready to make sacrifice no matter how highly placed or small you are. Teachers who are prepared to teach, doctors who are prepared to provide health services no matter what.
"Make the sacrifices required to make our nation great whether you are a leader or a follower," the acting president said.
The Chief Justice of Nigeria, Walter Onnoghen, read the first scripture, Ezekiel 37:1-14; and the Speaker of the House of Representatives, Yakubu Dogara, second scripture, Romans 129-21.
The presiding Apostle of the Word Communication Ministries and Founder of Christ Family Assembly Churches Apostle Sunday Popoola, urged Nigerians to be patient with Buhari's administration
The cleric said coup plot would fail, stating that Nigerians should choose their leaders through their votes and ensure their votes count.
He stated: "If you are out there like me, you will know that Nigerians are fed up and are waiting for something to spark. We need to be patient with the present government which has something to offer. Coup cannot work now and will not succeed."
Popool prophesied that Nigeria would be among the world powers in the next 10 years.
Prayers were said for President Buhari and Acting President Yemi Osinbajo as well as for the nation's peace, security and development.