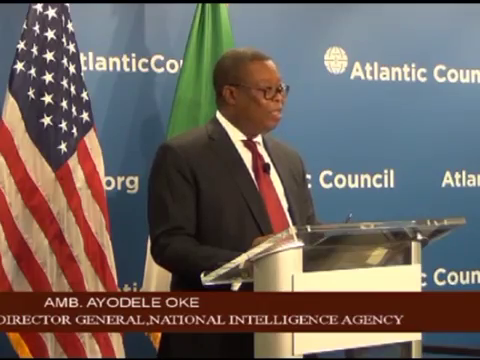 Reports indicated that the suspended Director-General of National Intelligence Agency, Ambassador Ayo Oke, betrayed emotion after a futile attempt to enter the Presidential Villa to see Vice President Yemi Osinbajo on Wednesday.
---
According to the reports, Oke tried to enter the villa shortly after his suspension was announced and was driven towards the Service Chiefs' Gate from where he was turned back.
The NIA boss, who noticed the presence of State House correspondents, however, turned back and attempted to pass through Vice President's exit gate.
He was prevented from going out through that point by security officials; the security also stopped the DG from passing through the service chief's gate.
He later left the premises without seeing the Vice President.
The Suspended NIA DG attempts to see the Vice President was after Babachir Lawal, the Secretary to the Government of the Federation, SGF who was also suspended by President Muhammadu Buhari on Wednesday met with Osinbajo.
The News Agency of Nigeria (NAN) reports that the closed-door meeting is connected with the work of the Presidential Committee set up to investigate allegations of misconduct against the SGF.
When accosted, the SGF refused to comment on the outcome of his meeting with the Vice-President.
He also feigned ignorance of his suspension as he queried journalists on who signed the statement sending him on suspension when he confronted.
President Buhari had on Wednesday ordered the immediate suspension of Lawal and Oke, pending the outcome of investigation of allegations levelled against them.
Media and Publicity Special Adviser, Mr Femi Adesina, said the president ordered an investigation into the allegations of violations of law and due process made against the SGF, Mr David Lawal, in the award of contracts under the Presidential Initiative on the North East (PINE).
The President also ordered a full-scale investigation into the discovery of large amounts of foreign and local currencies by the Economic and Financial Crimes Commission (EFCC) in a residential apartment at Osborne Towers, Ikoyi, Lagos, over which the National Intelligence Agency (NIA) has made a claim.
"The investigation is also to enquire into the circumstances in which the NIA came into possession of the funds, how and by whose or which authority the funds were made available to the NIA, and to establish whether or not there has been a breach of the law or security procedure in obtaining custody and use of the funds.
"The President has also directed the suspension of the Director General of the NIA, Ambassador Ayo Oke, pending the outcome of the investigation,'' the statement added.