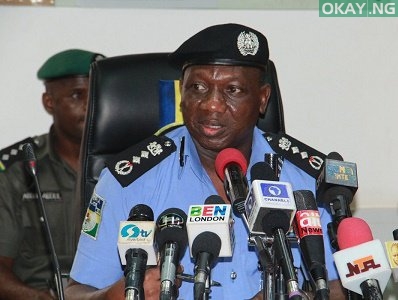 The Inspector General of Police (IGP), Mr. Ibrahim Idris, has ordered the dismantling of illegal revenue collection and other roadblocks across the country.
---
A statement by the Force Public Relations Officer, CSP Jimoh Moshood, said to give effect to the directive, men of the X-Squad Unit will begin monitoring operations on Monday.
The statement reads in part: "The Inspector General of Police…has deployed Special X-Squad Teams of the Force across the country to commence with effect from Monday, 17th April, 2017 the removal of all forms of illegal blockage of highways and roads, and other obstructions on public highways and roads created by unlawful revenue/tax collectors, Road Transport Unions, labour and trade related unions inhibiting vehicular movement and smooth passage of passengers and goods, and other road users across the country.
"The Special X-Squad Teams deployed are under strict instructions to also arrest, investigate and prosecute any person or group of persons found committing this illegal act. It is unlawful and contrary to the laws for any individual, or group under any name to take laws into their hands and block any Road or Highway in full or any part of it under the guise of collection of Revenue/Tax or enforcement of the interests of such organisations.
"For avoidance of doubt, the Taxes and Levies Act, Laws of Federation of Nigeria 2004 section 2 (2) disallowed any person, including a Tax Authority from mounting a road block in any part of the federation for the purposes of collecting any tax or levy.
"Consequently, the Nigeria Police Force hereby advises the relevant state governments, local government councils, Boards of Internal Revenue service across the country, various transport unions, labour and traders' associations that it is against the law for any organisation to create a blockage and restrict or restrain members of the public the free usage of roads and highways anywhere in the country."