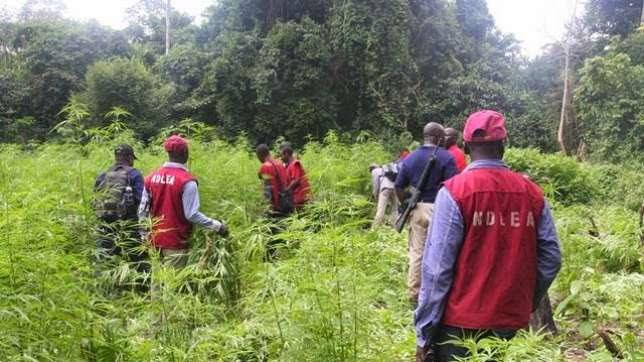 The Adamawa State Command of the National Drug Law Enforcement Agency has confirmed the arrest and prosecution of a notorious cocaine dealer, Ahmed Buba, popularly known as Ajebo.
---
He was caught with a total of 13.9 grams of cracked cocaine.
Yakubu Kibo, the state Commander of the Agency, confirmed the development to newsmen in Yola.
Kibo said the huge illegal substance was first of its kind in the history of cocaine seizure in the state and that the kingpin after the arrest was charged to a Federal High Court in Yola on April 12, 2017.
Buba was convicted and sentenced to five years imprisonment without an option of fine.
Kibo said the agency after the arrest conducted an intensive laboratory test and the substance was finally confirmed to be cocaine mixed with Soda Bicarbonate.
He said: "The Command on April 7, 2017 at about 8pm arrested one Ahmed Buba, a.k.a Ajebo, with a total of 13.9 grams of substance believed to be cracked cocaine.
"He was arrested in Yola town in front of Modibbo Adama University of technology Distance Learning Centre with the illicit concealed in a car brain box."
Advertisement
Kibo said the agency had been trailing the kingpin for about six months following an intelligence report.
Kibo explained that after thorough investigation in his house at Wuro-Chekke Ward in Yola South Local Government Area, Buba admitted to be in the illicit business for the past two years.
He pointed out that Buba, 37, was the main sources of cocaine business to many higher institutions of learning in the state.
According to the Commander, after further investigations, it was uncovered that the kingpin has wasted several lives of innocent youths in the state who became addicted to cocaine.
Kibo said: "Ahmed Buba has confirmed to the command that the sources of his cocaine is from Abuja."
He explained that the cracked cocaine was more dangerous than the ordinary powdered cocaine, if consumed.
Kibo said he was worried that the hard drugs cartels were now using vehicles spare parts, popularly known as Belgium, to conceal illicit drugs in order to defeat security checking points.
He warned that the command would not relent in its efforts to rid out the state of drugs.