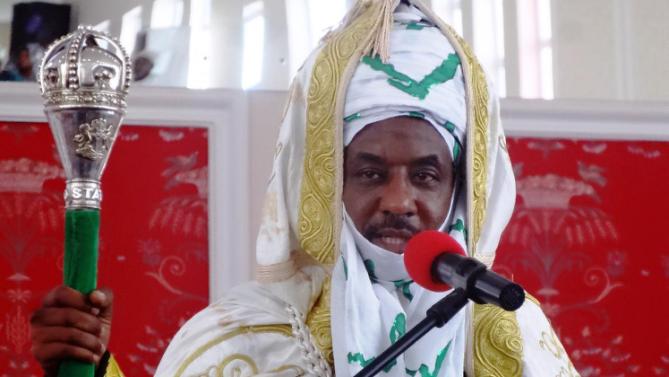 Kano Emirate Council on Monday dismissed a false, widely circulated social media reports that the incumbent Emir of Kano, Malam Muhammad Sanusi II, inherited N4bn on ascending the throne.
---
Sanusi said rather, he inherited N1,893,378,927.38 and certainly not N4bn, as widely reported.
The emir said that prior to his ascension to the throne, the Emirate Council had N2,875,163,431.17 in its coffers and deposited in different banks as fixed deposits.
The Walin Kano, Mahe Bashir Wali, who addressed newsmen on behalf of the emir, explained that out of the said amount, the Council withdrew N981,784,503.79 for the payment of the late Ado Bayero Royal City project, leaving a balance of N1,893,378,927.38 with the respective banks.
Other expenditures, he explained, included the payment of N152,627,723.00 for the procurement of furniture for the palace, adding that after Bayero's demise, his entire property, including his furniture, were removed and distributed to his heirs in accordance with Islamic injunction.
Also, he said N108m was paid to the heirs of the late emir by the Emirate Council in respect of his personal cars inherited by the incumbent Emir of Kano.
Furthermore, he said, N15,458,660.00 was spent on the renovation of the Fadacin Dare wing of the palace.
He noted that N9,071,000.00 was for the charter of flight twice for the emir.
On the alleged purchase of two Rolls Royce, Walin Kano stressed that the cars were not purchased by the Emirate Council but by friends of the Emir.
Again, he said, N37,054,192,06 was paid to Airtel because the emir was identified with only one local mobile phone, which he utilises within and outside the country; adding that the majority of all the charges were for roaming.
He explained that the Emirate Council received grants totaling N1,727,938,660.42 from the Kano State Government between July 30, 2014 and March 1, 2017 — a period of two years.
On the alleged N6bn expenditure between June 8, 2014 and April 11, 2017, the Walin Kano clarified that the Council, within the said period, spent N4,314,476,542.94, as against the alleged N6bn.
"For the records, the Council operates a budget as approved every year by the Council, and no expenditure is ever made outside the budgetary provision," the Walin Kano said.