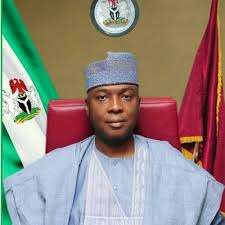 Senate President, Bukola Saraki has called for concerted efforts to rescue the remaining 195 Chibok schoolgirls that were abducted three years ago.
---
Speaking on the third year anniversary of the abduction of the girls on Friday, March 14, 2017, Saraki pledged that the Senate will continue to do everything within its power to advocate for the return of the remaining Chibok girls.
The Senate president stated that the safe return of the remaining Chibok girls will signify the closure of a dark chapter in Nigeria's history.
"I speak on behalf of all Nigerians who truly care, mothers and fathers especially, who cannot imagine the pain of not knowing whether or not one's abducted child is alive or not," the Senate President said.
"I know that this government is continuing to explore all options to secure the release of the remaining girls. We will continue to support the administration's efforts in every way that we can."
Saraki expressed optimism that one day, all the Chibok Girls will be returned back to their loved ones, while reassuring Nigerians and the international community that Nigeria will not stop looking for its missing school girls.
"They are our daughters. We will not stop looking for them. We will not give up the fight until they return back home to us."
Similarly, President Muhammadu Buhari has said that negotiations are ongoing to secure the rescue of the Chibok girls.