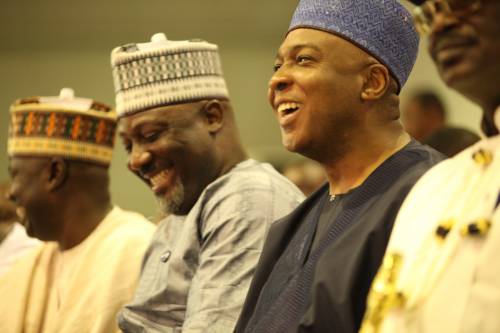 Nigerian Senate has cleared Bukola Saraki and Dino Melaye over allegations of certificate scandal and seizure of bulletproof Ranger Rover with fake Customs documents.
---
The Committee on Ethics and Privileges, headed by Sen. Sam Anyanwu laid down the recommendations that cleared the two principal officer at Wednesday's plenary after findings.
The report, which was signed by two-thirds of the committee, cleared Saraki and Melaye of any wrongdoing.
The committee said Ndume was the one that dragged Saraki's name into the matter of the seized bulletproof Range Rover based on a false report he read from a Newspaper report.
The report said Saraki's name was not in any way tied to the seized vehicle and Ndume brought the position of the Senate President and the entire Red Chamber to disrepute by tying it to the matter.
The Committee's report also said Dino Melaye graduated from Ahmadu Bello University and passed his courses.