Members of the Presidential Task Force met with the Acting President Yemi Osinbajo on the rising cost of food items in Nigeria.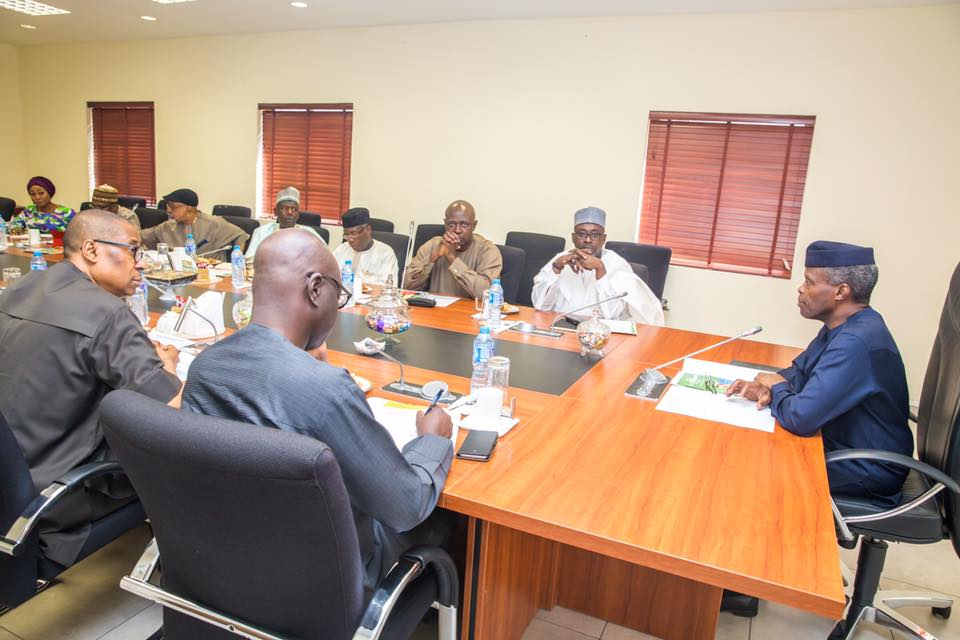 Acting President Yemi Osinbajo on Friday met behind closed doors with members of the Presidential Task Force on the rising cost of food items in Nigeria.
The meeting, which took place at Aguda House, the official residence of the acting president, was attended by all members of the group.
The Federal Executive Council on Wednesday approved the setting up of the task force as part of efforts to enhance affordable food prices across country.
The Task Force is to urgently consider measures that would ensure a steady flow of produce to the market and reverse recent price increases.
It is also has the responsibility of exploring options to promote availability and affordability of food items to Nigerians.
The group, expected to submit its interim reports on Feb. 8, has the Minister of Agriculture and Rural Development, Chief Audu Ogbeh; Minister of Finance, Mrs Kemi Adeosun and Minister of Industry, Trade and Development, Dr Okey Enelamah, as members.
Other members of the team are the Minister of Transportation, Mr Rotimi Amaechi; Minister of Water Resources, Alhaji Suleiman Adamu, and the Minister of Labour & Employment, Dr Chris Ngige.
Nigeria's consumer prices rose by 1.1 per cent in December, 2016 above November's 0.8 per cent increase.
The inflation figure for the period was 18.6 per cent and was the highest since October 2005.
The National Bureau of Statistics, which issued the data, said the inflation was fuelled by higher prices in housing, water, electricity and gas and other fuels.