Nigeria Customs Service intercepted massive weapons haul of 661 Pump-action rifles in Lagos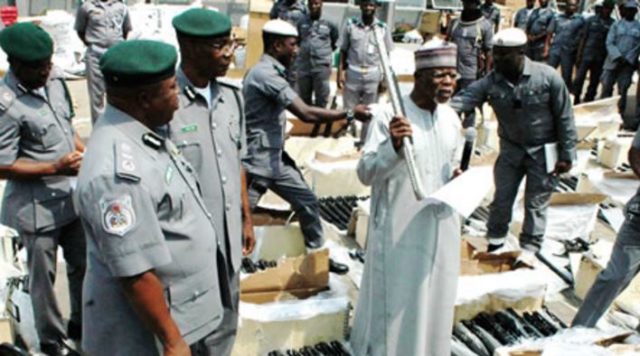 The Nigeria Customs Service (NCS) has explained how it intercepted a massive weapons haul of 661 brand new pump-action rifles in Lagos state.
The Customs also confirmed the arrest of three people in connection with the importation of the large arms. They suspects' names were given as: Oscan Okafor (Importer) age 51, Mahmud Hassan (Clearing Agent) age 56 and Sadique Mustapha (who accompanied the consignment to its destination) age 28.
In a press statement delivered by the Comptroller-General of NCS Hameed Ali at a briefing in Lagos on Monday, January 30, the outfit said the guns were intercepted on Sunday, January 22.
The statement read: "On Sunday 22nd January 2017, the Roving Team of the NCS Federal Operations Unit while on information patrol intercepted a Mack truck with registration number BDG 265 XG conveying a 1x40ft Container with Number: PONU/825914/3along Mile 2 Apapa road.
The brand new pump-action rifles in cartons in which they were seized
"The truck was immediately taken to the premises of FOU Zone A,Ikeja where Physical examination revealed49 boxes containing a total number of 661 pieces of pump action rifles concealed with steal doors and other merchandize goods."
The Customs clarified that the actions of the importer contravened the provisions of the Nigerian laws and it is even more so given the fragile level of security in the country at the moment.
It added: "These Rifles are under absolute prohibition; therefore its importation is illegal. Such deadly contravention of the law is even more unacceptable considering the fragile security situation in some parts of the country."